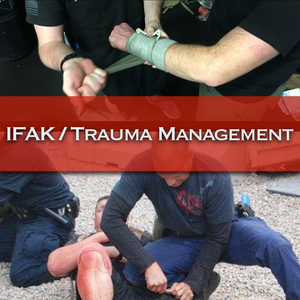 This course is all about saving lives, utilizing the essential tools carried by military personnel, law enforcement officers, outdoorsmen, first-responders and concerned citizens.
The IFAK is a key element in providing life-saving medical care to yourself or someone else. This isn't about splinting bones or putting on band-aids, this is about 'Stopping the Bleeding and Starting the Breathing.' The equipment in these kits continues to be effectively applied in emergency situations with increasing frequency across the nation by law-enforcement personnel and citizens alike.
We provide all training equipment, Just show up!
Description
Don't be the one sitting on your hands in an emergency – learn how to be a life saver!

Instruction Includes:

IFAK Familiarization (Individual First Aid Kit)
Scene Assessment
Patient Assessment
Wound Management
Hands-on Scenario Training
IFAK Maintenance

Course options include receiving course instruction and an IFAK or just receiving the course instruction. This may be helpful if there are multiple people in your home / office / agency that will be using the same IFAK.

Equipment (We provide all training equipment)

We provide all training equipment
Hydration & water
Notepad & pen

Class deposit is required to hold your seat, the deposit is non refundable and the remaining balance must be paid within 2 weeks of your scheduled class date.
Additional information