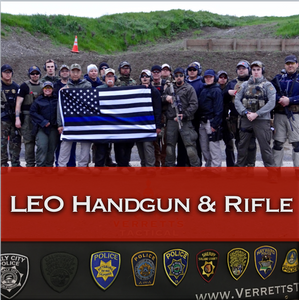 We understand that additional training is oftentimes necessary, but can be a strain on time and personal resources. Verrett's Tactical supports our Military and Police Officers who put themselves in harms way every day to protect our country and our fellow citizens.
This is an advanced law enforcement class. It is a fight how you train, train how you fight course of fire. Please bring your duty belt, gear, protective vest, plate carrier and any other gear that you would wear in response to an active shooter or violent encounter.
If you are certified to use an AR15 or shotgun on patrol, you may bring and use either for the scenarios in this class.
Description
Equipment (you must provide your own equipment)
Duty Belt
Duty Pistol and 3 magazines
Ballistic Vest

500 rounds of Handgun ammunition

Patrol Rifle or Shotgun (Optional)
To run a AR or Shotgun in this class the student must be POST Certified or have other credentials.

200  rounds of Rifle ammunition 

Sling (Mandatory)
Plate Carrier or Chest Rig.
Batteries for electronics
Weapons lube & tools
Hydration & water
Notepad & pen
Ear & eye protection (electronic ear protection recommended)
Personal protective equipment:
Gloves, knee, & elbow pads (STRONGLY RECOMMENDED)
Body armor (optional)
Verrett's Tactical Fighting courses are based on real world application, featuring realistic and comprehensive training methods. Building on fundamentals to create a shooter that can solve problems in real world situations. Students will learn weapons manipulation and fundamentals which will gradually be introduced into dynamic scenarios and exercises geared towards practical self defense and saving lives
Additional information
| | |
| --- | --- |
| Payment Option | Deposit $125, Full Payment $240 |
| Date | Sacramento CA / June 16th 8:00am-5:00pm |